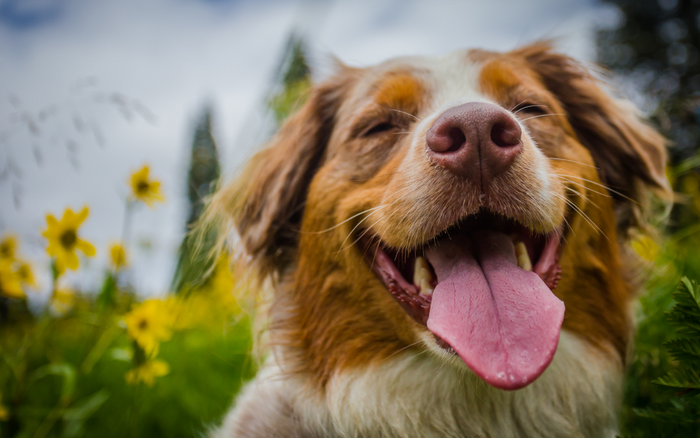 Keep your dog happy and safe in the heat with our 5 tips for safe fun in the sun
The hot sun can be problematic for our furry friends, so how do we take best care of them when the hot temperatures hit? In this blog post, you will get 5 tips to help your dog in the heat.
1. Lots of water
It cannot be said enough how important water is for our dogs in the warm weather. Therefore, it is important that you always bring fresh drinking water on your trips. Feel free to bring extra water on the trips, so that it is also possible to pour water over the dog if it gets too hot. If the dog does not want to drink, you can try putting treats in the water bowl to make sure it will drink some water.
Pro tip: Our dogwalking bag comes with a thermal container for the water bottle!
2. Stay in the shade
Make sure that there's always room for your dog in the shade, whether you're out walking, staying at the beach, or staying in the garden. Feel free to set up an awning or parasol so that the dog always can seek out the shade.
3. Go for a dip in the water
If your dog loves the beach, you can take a dip together. Remember that dogs are not allowed on all beaches during the summer period and be aware of algae. It is also important to be aware that the dog does not drink too much salt water. In the garden you can set up a small pool, and some dogs like to have a party with the water hose too.
4. Try with homemade ice cream
It is easy to make homemade ice cream, and your dog will love you for it, so here is an easy recipe for ice cream from Power dog bites. For 1 ice cream, use the following:
4 tablespoons organic coconut milk (organic) - shake before use
1 tablespoon mashed blackberry
3 leaves lemon balm finely chopped
And boom, then you have delicious ice cream, you might even be tempted to taste it yourself.
5. Walk early in the morning and late in the evening
You can advantageously go on your longer trips early in the morning or late in the evening when the temperatures are lower. If you go in the middle of the day, we recommend shorter trips and that you avoid the asphalt. 
Thank you for reading and remember to take care of the dogs in the heat.
A few last extra tips:
If the dog gets too hot, you can advantageously give the dog a wet towel and dip the dog's paws in water

Never leave the dog alone in the car

Dogs can also get sunburned. Therefore, avoid direct sunlight in the middle of the day. You can even give the dog sunscreen in sensitive areas (without perfume)