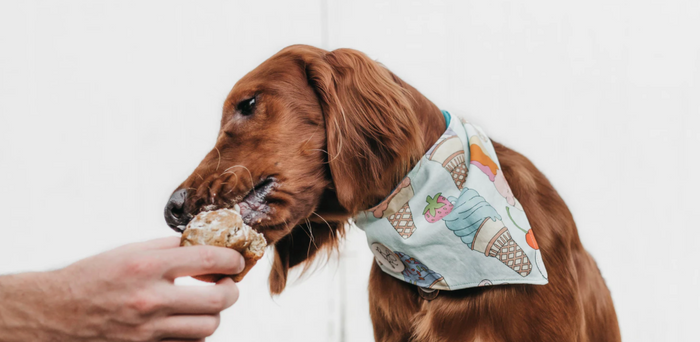 When the temperature rises and summer is upon us, we always have to keep an eye on our dogs to make sure they do not get too hot.
And just as we like to cool down with a delicious summer snack such as fruit, lemonade and ice cream, so do dogs!
That's why we've put together some ideas for delicious dog "ice cream" and summer snacks for dogs...
Dog ice cream and summer snacks
Many dogs do not tolerate milk products as well as we do, so sharing a soft-serve ice cream with your dog is usually not recommendable.
Instead, make your own dog ice cream for Fido - and keep your ice cream for yourself.
Mix liver pate with water and possibly a little dry food and freeze it.
Freeze your dog's favorite wet foods or dry foods
Freeze bananas like small ice cubes
Mix together small pieces of cooked chicken and water and make a slushee with chicken flavor (if you have boiled chicken yourself, you can use the water as ice cubes for your dog)
All these ice snacks can be made either by freezing it in an empty bone or a toy designed for this - or by making popsicles in which you put the mixture in a disposable cup with a dental stick and place it in the freezer.
Fruit for dogs should be given in moderate and balanced amounts, as most dogs are not usually used to eating fruit.
Ice cubes: Many dogs are fond of ice cubes and both think they are fun to play with and nice to eat when it's hot.
Watermelon is often a hit for dogs as it tastes both good and soft. But make sure they do not eat the rind as it may be surface treated.
Bananas can be frozen either as cubes or mashed and frozen like ice cream.
Doggy ice cream in moderation
When serving frozen treats to your dog, you should match your dog's size, partly because they will often eat it relatively quickly, and it can cause an upset stomach and digestion issues to ingest a large cold mass all at once. Your dog should also be supervised while eating it, and encouraged to lick instead of chewing to avoid swallowing large frozen pieces.
A good way to control it is by filling wet food or liver pate in a hollow bone, either real or plastic.