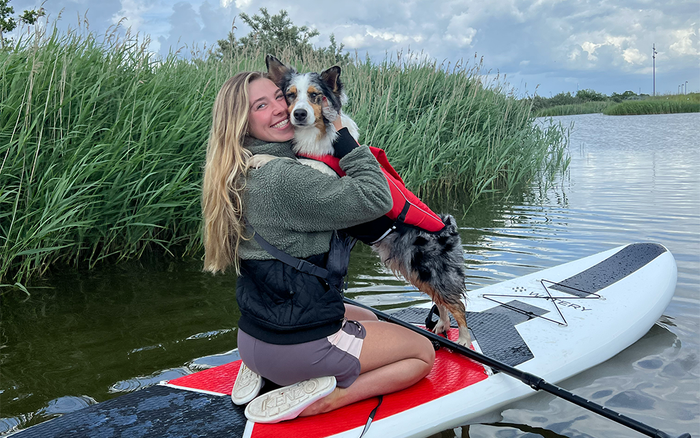 Taking the dog out on a paddleboard can be a great outdoor adventure for you! In recent years, the SUP has become an extremely popular activity, not least for dog owners.
But to be sure that the experience will be good, it is a good idea to do some training before.
THAT'S WHY we have created a guide on how to make your doggo comfortable with your paddleboard.
The 5 tips
1. Have your board at home so that your dog becomes comfortable with it
The point of this is to help your dog get used to the board. We want to teach the dog that it's a fun and safe thing to be around.
Maybe the dog will even sniff at it or step on it.
2. Reward your dog for investigating your board
Once your dog has become comfortable with the board being there, you can encourage him to explore it, if he hasn't already done so voluntarily. If you have been good at training to jump on things beforehand, you may be able to train this quickly.

But otherwise we recommend that you proceed slowly. Let the dog sniff the board. If necessary, entice your dog with a small treat and a reward for being on the board, which lies completely still on the floor.

If your dog becomes uncomfortable, take a step back and reward for showing the slightest interest in the board. Remember to reward a lot along the way, so that we create positive associations.

Remember to also show them the paddle you will be using in the water later. 
The DogCoach Pro Shirt is perfect to take on the trip! With this shirt you get a lot of pockets with room for treats and everything practical
3. Train a command to jump on and off
It will benefit you to have a command to get on the board and a command to get off. 

As in all other dog training, learning a new command is a process. We recommend that you start by learning this command at home in a safe environment and then practice it on the board in different rooms before moving the training outside.
4. Practice standing or sitting on the board
Now that you have a handle on getting the dog on and off, you will benefit from training both sitting and standing still on the board. Here you can advantageously train it while standing or sitting behind the dog on the board. Train to sit and stand from the position you imagine doggo should have, when you go out on the water. Feel free to tilt the board a little while you stand there so they get used to movement.
For some dogs, it will be a challenge for you to stand behind them while they have to sit down. Therefore, make sure to reward a whole lot along the way.
5. Try it out in the water
Now you're going into the water! Start the training in water, where you can reach the bottom and train the same things that you have already trained with the board on the floor. We want the dog to feel safe and for the training to be easy to bring out into another environment.

For some dogs it will be really easy, and other dogs may need the owner to be extra attentive and careful. Either way, make sure to support dog.

When it works well without you paddling off, you can try paddling out.
Start by sitting down on the board on your knees until you are both sure of your balance. It will give you the best start on your new adventure.
Safety
We always recommend that the dog and owner wear a life jacket!
Note that a SUP board is described as a smaller vessel, and you should always have a life jacket on or with you. 
Remember to keep a close eye on wind and weather conditions, especially at sea. A SUP board is light and drifts easily in the wind. Check the weather forecast beforehand and start in creeks or places with no or light current.
Remember to have fun
Don't forget it should be fun. Both for the dog and owner. Be patient and remember to respect your dog's pace. Reward, patience and praise will probably pave the way for many fun hours together on the water.